Pope Meets World Leaders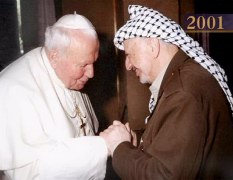 Pope John Paul II, a strong advocate for peaceful resolutions of Middle East conflicts, met with Yasser Arafat many times before the Palestinian Authority leader died in 2004.
Last June, the pope had expressed his concerns to President Bush over the U.S.-led invasion of Iraq in 2003, but appreciated Bush's commitment to the promotion of moral values in American society.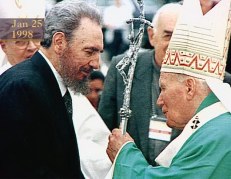 The pontiff openly criticized communism during his first Mass on Cuban soil in January 1998. He urged President Fidel Castro to open state-run schools "to the values of the gospel of Jesus Christ."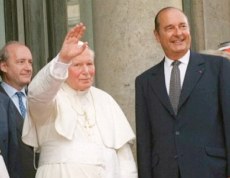 French President Jacques Chirac welcomed the pope during his two-day pilgrimage to Lourdes, calling him "a universal pastor and a man of peace."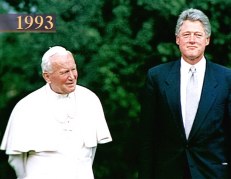 In 1993, the pope urged President Bill Clinton "to build the edifice of world peace on the solid foundations of truth." The two world figures met for the first time on Aug. 12, 1993, when the pontiff came to celebrate World Youth Day in Denver.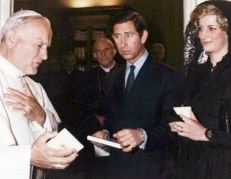 In April 1985, England's Prince Charles and Princess Diana had a private 35-minute audience with Pope John Paul II in his library in Vatican City. The pope said he was "deeply saddened" at the news of Diana's tragic death in 1997.
The Vatican maintains diplomatic relations with Iran. In 2002, the pope met with Ayatollah Seyyed Mohammad Khamenei, the oldest brother of Iran's supreme leader Ayatollah Ali Khamenei.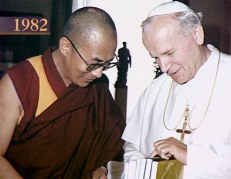 In 1982, the Dalai Lama had a 20-minute private meeting with the pope at Vatican City. It was the exiled Tibetan Buddhist leader's hope that they would exchange "religious messages of peace."
The pope flew to South Africa in 1995 to acknowledge one of Africa's triumphs -- the end of apartheid -- and met with then-President Nelson Mandela.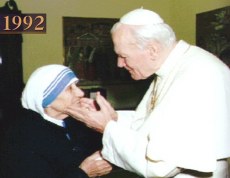 In 1992, the pope received Mother Teresa, the elderly nun reknown for her work with the poor and destitute in Calcutta, India. After her death in 2003, he beatified her, calling her life "a testimony to the dignity and the privilege of humble service."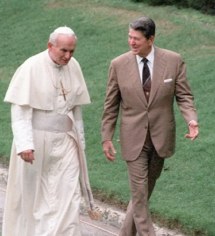 Sharing strong anti-communist beliefs, the pope met with President Ronald Reagan four times during the 1980s. After one particular meeting in Alaska in 1984, the pontiff praised the president for being "molto simpatico" -- Italian for "very charming."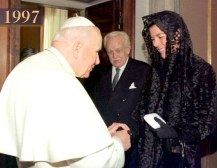 Monaco's Prince Rainier, seen in this 1997 photo with his daughter, Princess Stephanie, received a blessing from the pope on March 26, 2005. The 81-year old prince has been suffering from a lung infection and was placed on life support last month.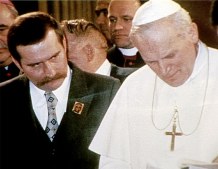 ''I could not imagine my existence or that of Solidarity without the figure of a magnificent Pole and a great man: John Paul II,'' said Lech Walesa, founder of the Polish labor union, after an emotional meeting with the pope in 1989.